Strengthen your Influencer Relationships!
Whenever you are faced with a choice in life, indecision will almost certainly get the best of us. Whether it is choosing a restaurant for dinner, a new pair of shoes or guitar classes; choices are plenty in today's world and making the right one is turning out to be more difficult than everyone lets on. But say you're having a conversation with a friend and they say that the restaurant choice you were mulling over the other day is absolutely fantastic, with the best food in town; then the decision is unanimous! You'll choose that restaurant because your trusted ally recommends it. Sometimes people just need validation of their choices from trusted peers or friends. This is the role of influencer marketing in today's world. Therefore, influencer marketing has had a such a boost in success over the years. When people see their trusted role models recommend a brand, it automatically nudges them into buying it. And in the end, getting more business is every entrepreneur's goal; and if involving influencers into marketing does the trick, so be it.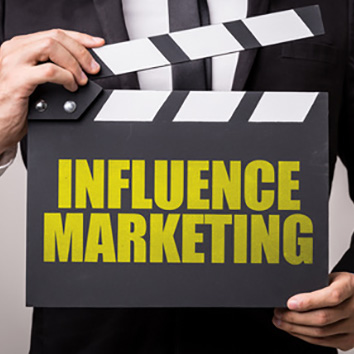 Now, once you have an influencer under your wing, it is time to keep them around. That's building a strong relationship with them.
Here, we have listed out some effective ways to strengthen your bond with your influencers;
Establish a Relationship
Have a guy in your team that you can rely on to find yourself an influencer for whatever product you sell. Have him contact the influencer you have in mind and explain to them, in brief, what your company is about and what services you expect. Making contact through a phone call is always the best; followed by email and social media.
Think of the results
Most often than not, good influencers are busy people and they take time out of their busy schedule to interview with prospective clients for marketing campaigns; and the first thing influencers look for is the value in the work. If the campaign isn't worth their time, then they couldn't be bothered to promote your brand. Prove to them why working with you will be beneficial for both the parties. Some companies have allocated resources and funds for influencer marketing campaigns and these companies will be preferred before non-funded projects; unless the influencer has a soft spot for your brand.
Don't Irritate
A surefire approach to disappoint influencers and cause them to overlook your solicitations is by making it troublesome for them to take an interest. Suppose I'm composing an eBook concentrated on retail patterns and expectations, and I need to join forces with specialists in the field. What's the most ideal approach for me to get reactions? Enable them to share input through the channel that is in easy access to them: an email Q&A or telephone interview. Demonstrating to influencers that you're adaptable and will work with their time schedule makes them feel relaxed and even more eager to keep the discussion going.
Share the End Results
This is a very important step to keep your influencer bonds strong. Do not break ties with your influencer after the job is done. This makes them feel used and unwanted and will never involve with your brand ever again; we don't want that. Share the results of the campaign with them, involve them in the processes that lead up to it; keep them updated on every step of your campaign. This can be through emails, phone calls or even a face to face meet if they are up to it. Engage them in conversation and keep them hooked into your brand. This way, you can enlist their help in the future for other campaigning projects and not have the relationship come to an abrupt halt. Maintaining an influencer relationship is just like any other friendship; you ignore them, they find new friends. Simple.
Nurturing and maintaining an influencer relationship is no easy task; it takes a lot of time and effort. But in the end, it's your brand that benefits from it, it's your brand that gets the recognition it deserves. Follow these steps and always make sure you never lose your influencer buddies. They only improve your status!
Do you think your brand would benefit from some social media marketing and optimization? If yes, we are the people for the job! Check out our services at #Social and contact our team for all your needs social!
#Social