How Social is B2B?
Social media can be a bit of a mixed bag. Twitter was designed as a democratic platform so all users have 140 characters to voice their opinion. That sounds great. Yet, sometimes it feels like most people choose to angrily shout into the void rather than engage in thoughtful dialogue. Facebook was originally envisioned as an exclusive online club for college students but it has become so much more.
Today most corporations are heavily ingrained in social media marketing because of the enormous potential that lies beneath the surface. It's common knowledge that word of mouth is the best way to boost brand awareness. Well, what better way than targeting the users of various social media platforms? A study revealed that Facebook, Twitter and LinkedIn rank as the top three social media sites picks by about 90% of B2B businesses.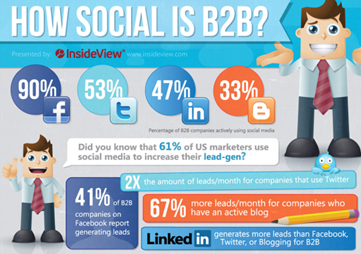 There's a lot that goes into a successful social media campaign but content marketing should be the main focus here. After all, the endgame is to drive traffic to your website. LinkedIn works best when it comes to generating leads. Your company's LinkedIn profile will help establish its position in the industry through specific content such as press releases and blog posts that will inform readers about product launches and key infographics. It is a professional marketing website and one that nine out of every ten B2B companies rave about. In fact, it does what the other outlets fail to do: form business connections based on a mutual goal. LinkedIn is all about influence and influence networking brings a personalized approach to the process of engaging others. Your network members will take you seriously as long as you have something to say that is worth their time. Identify the MVPS and take a look at their profiles. See how they empower their followers and follow suit. People love to listen to a thought leader.
There's also the reality that social media marketing is much cheaper than advertising. Building an effective online presence takes time. But it can be done. Creativity and effort breaks through the mould and will guide you on the right path. Facebook ads have the biggest reach by far but are more likely to engender an audience who isn't fully captivated by your business. Twitter is somewhere in between.
Again, thisbears repeating: know your audience. Your peers will be on LinkedIn. However, you can always reframe content to appeal to your audience. You can post a link on Twitter and then publish it as an image post. This helps make double posting appear less intrusive to users and drives home the message twice.